New Richmond 58cc 22″ 2-stroke Gas Gasoline Chainsaw Chain Saw Auto Oiler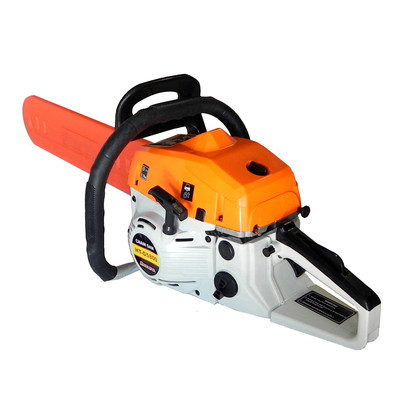 SquareTrade © AP6.0
DESCRIPTION
Brand new RICHMOND 58 cc 22" gasoline chainsaw
Engine: Air cooling; single cylinder, two stroke gasoline
engine;
Maximum Power: 2.6KW
Displacement: 58 cc;
Idling speed: 2800 ~ 3200 rpm;
Max speed: 11,000 rpm;
Ignition: CDI;
Starter: Hand recoil;
Bar: 22";
Auto oiler;
Fuel tank capacity: 550 ml;
Fuel: Gasoline/2-cycle with oil mixing ratio 25:1;
Oil tank capacity: 260 ml;
Chain Pitch: 3/8";
Net weight: 15 1/2 lb.;
Package dimensions: 20"x10"x12;
Assembly required.
POLICIES
SHIPPING
Standard Flat-Rate Shipping Service
US lower 48 States only: Free (Standard Ground Service)
AK, HI, PR: $28.50 (USPS Priority Mail)
Item will be shipped the same or next business day after the payment is received. Please examine the item carefully upon arrival and report any found damages to the delivery person and us. We will do our best to file damage claims with the carrier. We do not ship to P.O boxes in the US lower 48 states. Local pickup is available.
PAYMENT
We accept major credit card and PayPal payments. We will charge 6.75% sales tax for items shipped to Ohio. Item needs to be paid for within 5 days after closing.
RETURN
Items must be returned within 30 days after delivery. All items must be shipped back in the original boxes at the buyer's expense. Once received, items, if found faulty, will be either repaired or replaced at our cost, or fully refunded as customer requests. Please be advised, however, that shipping and handling fees are not refundable. In case of return, please do NOT throw away the original boxes. Kindly notify us by email before returning items. We will charge 15% restocking fee if items are returned for any other reason than being defective.
PARTS & COMSUMABLES
We have all the spare parts and comsumables in stock. Please click here for details.
DISCLAIMER
It is the buyer's responsibility to check out whether the use or operation of this product is in compliance with any applicable local rules, codes, and regulations. Except as provided in the foregoing descriptions, the seller makes no express or implied representations or warranties with respect to the merchantability or fitness of this product for a particular use or purpose. The details, specifications, and information provided herein are the complete and final information and data available with respect to the product. Do not assume the existence of any facts, data, or information that is not expressly stated herein. The seller only warrants the information provided here. if you purchase under certain assumptions which are not expressly and explicitly stated herein, you purchase at your own risk and with no recourse to the seller.
SquareTrade © squaretrade warranty v2.0